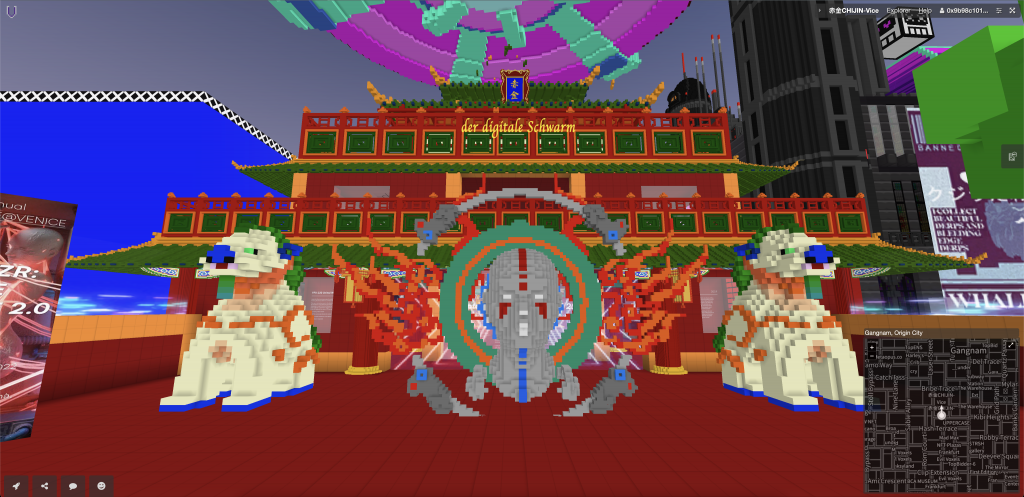 Chi Jin is a blockchain virtual art space built in Cryptovoxels. In the first half of 2020, the pandemic that locked people up in cities led to a boom in virtual worlds, and people used blockchain technology to build up virtual worlds where they can use digital currency to buy and sell land, create buildings, make parties, do auction and display their artworks. Mrs. Jiaying Liu purchased a piece of land in Cryptovoxels in the first half of 2020 and built her virtual space Chi Jin while calling up community builders to develop Chi Jin into an ever-changing virtual space,which can always be edited online by multiple players .
《赤金》是一座建造于Cryptovoxels里的区块链虚拟美术空间,2020年上半年受到疫情的影响,人们的外出受到约束,这造就了虚拟世界的繁荣,人们开始利用区块链技术,构建虚拟世界,在这里人们可以使用数字货币进行买卖土地,创造建筑,举行派对,拍卖和展示艺术作品,刘嘉颖在2020年上半年购买了Cryptovoxels的土地,并建造《赤金》虚拟空间,同时召集社区的建筑者,使得《赤金》是一座多人在线编辑、一直在变化的虚拟空间。
Chijin Art Museum(1):
https://www.cryptovoxels.com/play?coords=N@200E,362N
CryptoZR:"Cookie Cookie 2.0" is now on view at two Chijin Art Museums.