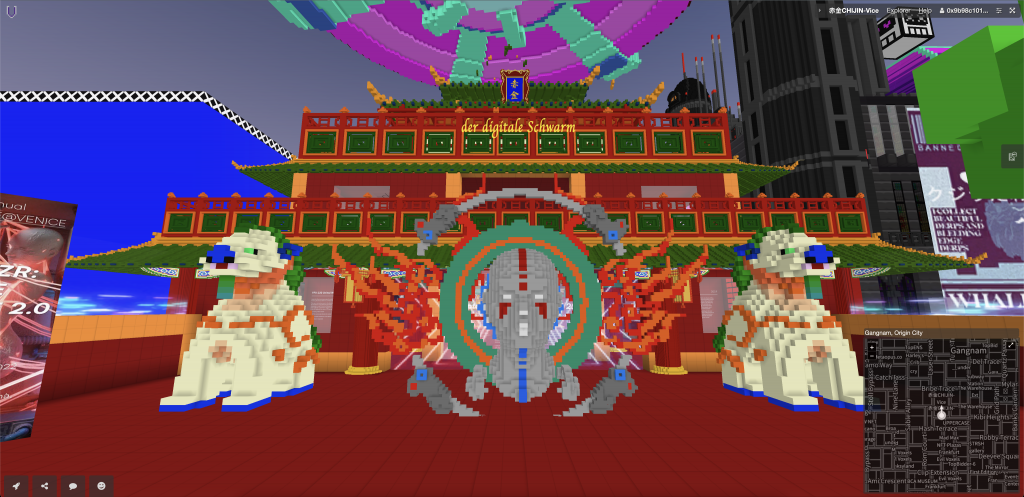 CHIJIN-Vice (since April 2021)
https://www.cryptovoxels.com/play?coords=W@305E,368N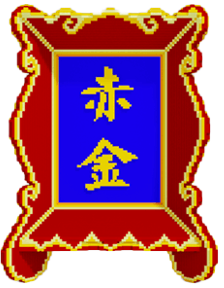 CHIJIN is the first virtual art museum in Cryptovoxels designed based-off traditional Chinese architectural elements, with its unique artistic style and open organizational concept, it has attracted many organizers and participants. The attention given to CHIJIN lead to the creation of a second one called CHIJIN-Vice.
赤金是Cryptovoxels中第一个基于中国传统建筑元素设计的虚拟美术馆,以其独特的艺术风格和开放的组织理念,吸引了许多组织者和参与者。对 "赤金"的关注导致了 "赤金-Vice"的诞生。
CryptoZR:"Cookie Cookie 2.0" is now on view at two Chijin Art Museums.
CHIJIN-Vice inherits the architectural structure and style of the former one, referencing the Tibetan Buddhist monastery and the side towers of the Forbidden City. Its layout is a Chinese-styled building with three floors and a courtyard.
赤金-Vice继承了前一个的建筑结构和风格,参考了藏传佛教寺院和紫禁城的侧塔。它是一个具有中国风格的建筑,具有三层阁楼和一个院子。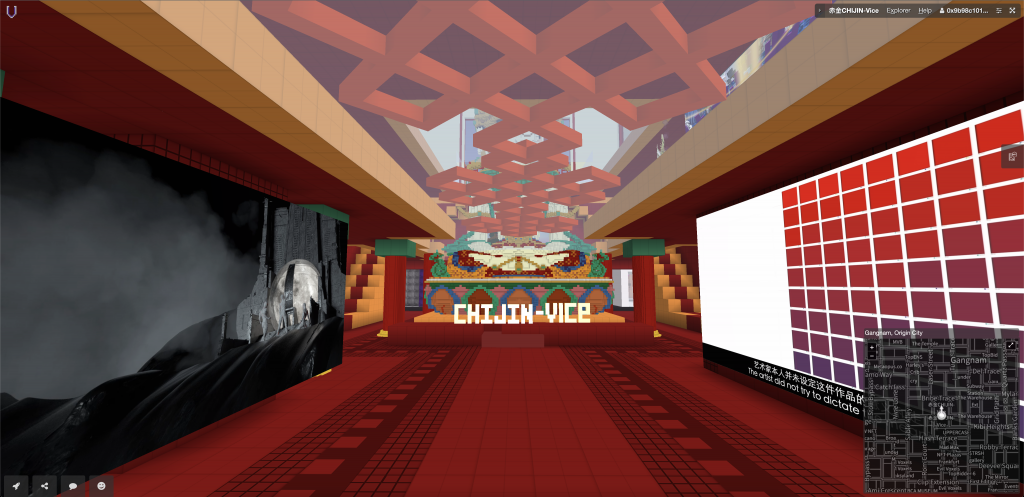 CHIJIN and CHIJIN-Vice's buddha statue, Mahavairocana(Da Ri Ru Lai), is the centerpiece of the space. A Tantric-style statue of Buddha, Mahavairocana is three stories high, following the design of Tibetan Buddhist monasteries, can be seen throughout CHIJIN building on each floor of the gallery space.
赤金和赤金-VICE的佛像,大日如来是这个空间的中心。大日如来是一尊密宗风格的佛像,有三层楼高,遵循藏传佛教寺院的设计,在整赤金的每一层空间都可以看到。