Li Zhenhua 2022,4,20
COOKIE COOKIE, the exhibition CryptoZR (Liu Jiaying) and I presented in 2021, has been updated to COOKIE COOKIE 2.0 for Venice. Unfortunately, the artist cannot be present due to the pandemic. Even though Europe is absorbed with war and nuclear deterrents and the pandemic is still ongoing, we will open the show in Venice on April 21, 2022.
"…the representation of bodies and their metamorphoses; the relationship between individuals and technologies; the connection between bodies and the Earth." – Cecilia Alemani
Do we want to consider the communities in which we exist—whether physical, physiological, or natural—and the contracts of culture,
race, family, and finance that bind those communities? Humanity has always created more ties that bind, based on a given region, religion, or family relationship. These bonds shape how we distinguish people from one another and the methods we use to quickly build trust or to establish consensus and convention. The larger context of identification that results, encompassing nationalism, the homogenization of taste, and the comparative (if anonymous) understanding of ideology and information, can build a framework in which another person and I are part of the same community.
The Venice Biennale is a similar framework, or it could also be seen as a type of underlying protocol. Does the curator's theme "The
Milk of Dreams" have a certain breadth and identifiability? If we discuss the fact that 90% of the artists are women, does that inspire more empathy after the Me Too movement? Was completely transplanting the title from the best‐selling children's book by Leonora Carrington (1917‐2011) subjective, rooted in Big Data, or entirely random? The curator has offered three directions, including "the representation of bodies and their metamorphoses; the relationship between individuals and technologies; the connection between bodies and the Earth" (Alemani). How do they create organic connections between underlying protocols and contemporary ideologies?
This thing called the "metaverse" is another concentration of people that intends to foster community and escape a reality that already has so many underlying structures and conditions.
Is it technology, community, or something else? If we accept all change as a precondition for the working of the world since Karl Marx discussed the alienation of people from the economy, then what is still so strange or unintelligible?
We accept everything about the present, which also includes climate change, other people, breakfasts and refrigerators, unfamiliar objects, and the machinations of fate, but there will always be people who ask: Why do humans exist? Following the current path, people are cogs in socialism, or frantic workers in Charlie Chaplin's Modern Times. In order to explore autonomy, consciousness, and introspection,as well as rational explanations for conflicts between people, humans invented religion, theology, philosophy, psychology, sociology, law, and numerous related professions, all of which have continued to evolve. New conflicts have produced larger intellectual interactions. Like in American Gods, when the New Gods replaced the Old Gods, belief, technology, and choice informed a new framework. All of this shapes the several contradictions in and aspects of CryptoZR's art. In Red and Blue, the artist discusses how a work of art is made amidst the shift from images to community participation in politics and the connections made between anonymous users through blockchain and web technologies; it is a more direct and real exploration of communities and transactions. Motivations, gains, games, and ideologies make up an interesting whole.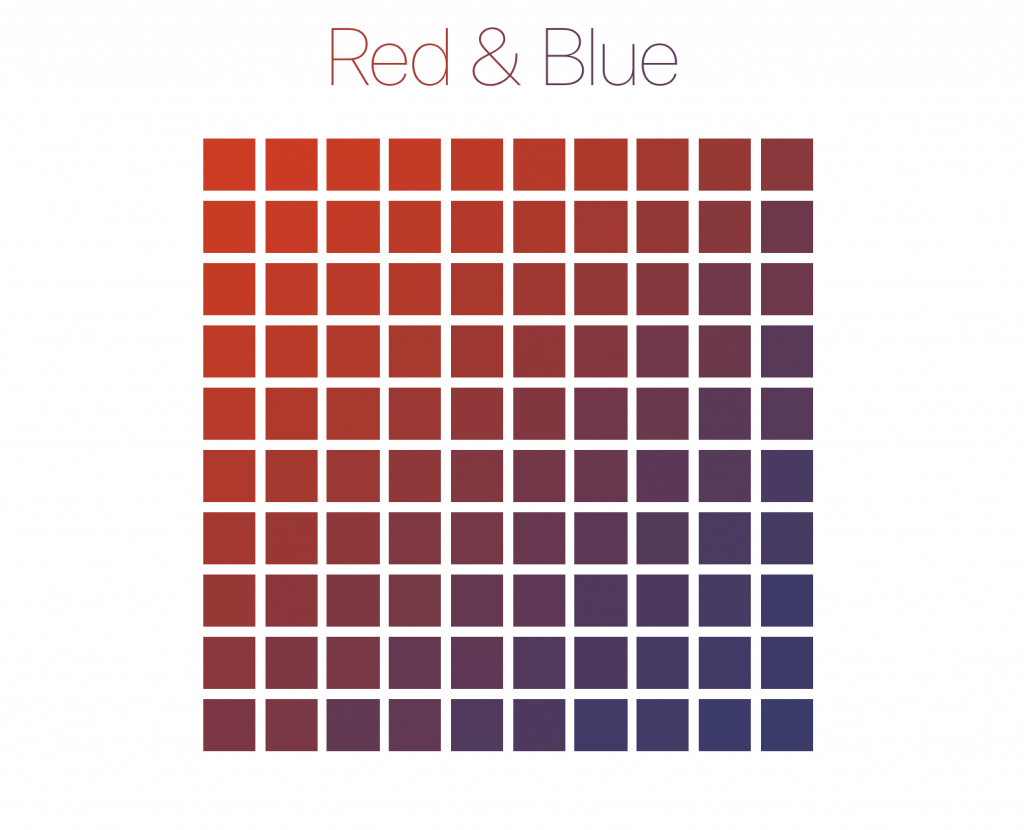 If we situate Red and Blue in the context of the current conflict between Russia and Ukraine, people have been controlled by the news, social media and bank accounts have been suspended, and people have even been cut off from the internet. In the face of war or nuclear crisis, extremes are emerging within globalization's ideology of sameness and wholeness, and we must guard against them. We must keep in mind the dissolution of the Soviet Union, the Cold War mentality, the fact that Ukraine and Russia were once part of the Soviet Union, and the games played by regional leaders and NATO after the Soviet Union's collapse. In the logic of technology, this is related to the use of Starlink, the rise of blockchain, de‐centralized finance, smart contracts, and everything from bitcoin to NFTs to the new frenzy around the metaverse. Red and Blue, like any game involving multiple frameworks, could be seen as an ideology or a transaction. It could be about technology and people, but it could also be about pure color and action.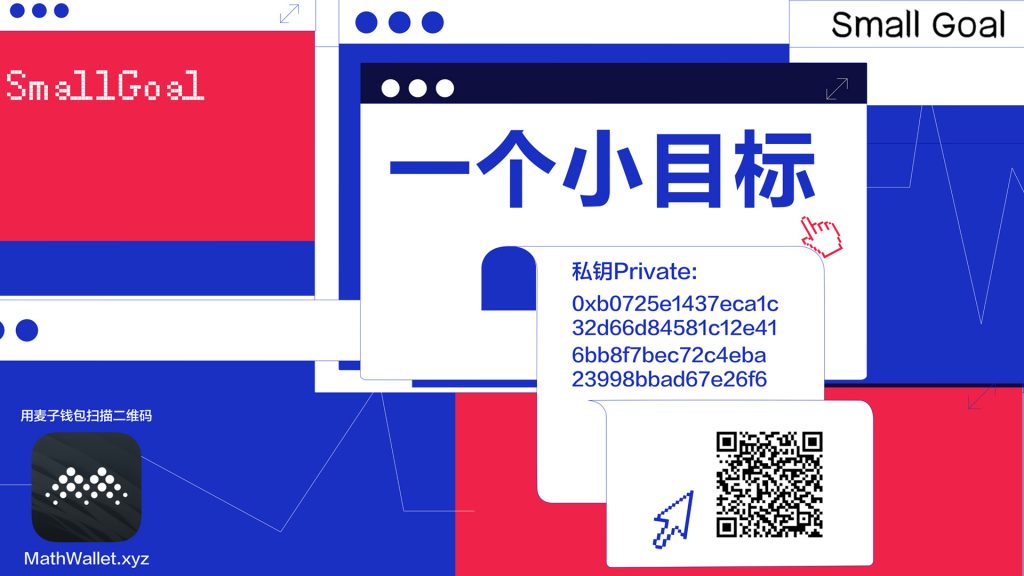 CryptoZR continues to explore different mediums and frameworks. Small Goal,Greed Is Good, TopBidder, and other smart contract applications can be seen as web‐based performances, but interaction with the work does not require traditional art system intermediaries, such as museums, art institutions, and other physical spaces. The works are made online, but they are then transplanted into multiple forms in offline space, including concept, action, and design. CryptoZR's work challenges both the new frameworks for online community, technology, and psychology and the new possibilities for physical spaces and artistic ideas.
CryptoZR's CHIJIN was constructed in Cryptovoxels, and everything in the virtual community is built on a crypto wallet. The interactions between the space, architecture, and avatar create something that connects the real and virtual worlds. A complete virtual reality infrastructure and a crypto wallet offer an entrance to the metaverse. However, humans cannot yet move at will between the real and the virtual like in The Matrix or Ghost in the Shell. CryptoZR's work is about ways of transforming science fiction and imagination into the present reality and constantly adjusting the applicable scope for humans and technologies.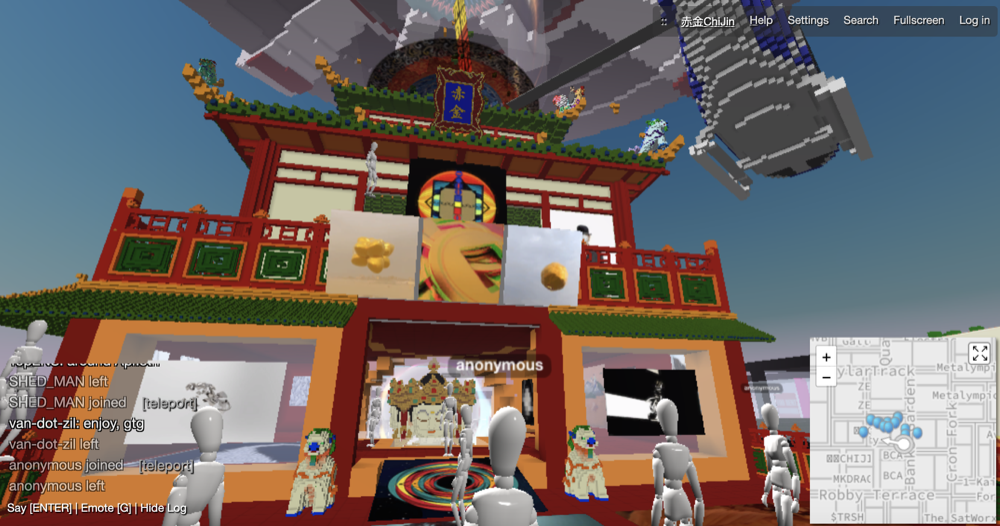 Since its emergence, the internet has continued to produce new subject matter, including discussions and explorations of gender, culture, region, and community. Anonymization, AI, surveillance, VPNs, and other realities that have arisen from technology, as well as the dark web and Wikileaks, comprise an alternate storyline to the Black Lives Matter, Me Too, and Stop Asian Hate movements in the offline world. Returning to the offline world, CryptoZR is a woman artist who has participated in the diversification and alienation of identities that have come with emerging technologies. With a name like "CryptoZR," she could also be a "he" or an "it."
CryptoZR's work is based on community, focused on connections between people. When extended to individuals and technologies, or to bodily metamorphoses, perhaps we should accept all of this and re‐evaluate how people should get along in a modern society? What exists between people? How should people learn and play in those interactions? Perhaps in CryptoZR's artistic explorations, we can glimpse narratives of multiple parallel worlds, or another kind of intelligence.
Curator Li Zhenhua
Li Zhenhua (b. 1975, Beijing) currently works between Zurich, Berlin and Hong Kong. Active in the contemporary art field since 1996, his practice primarily involves curation, art creation and project management. Li is the Film curator at Art Basel Hong Kong (since 2014) and has been the nominator for the Sommerakademie im Zentrum Paul Klee and the Prix Pictet in Switzerland. He once served as a member of the international advisory board for the exhibition Digital Revolution (2014) at the Barbican Centre in the United Kingdom, recently he was a juror for the Korean Cultural Center's Open Call 2021 and the DAAD's fi lm residency 2022. Li has participated in the BEUYS 2021's Voices 2021. Zhenhua has edited several artists' publications, including Yan Lei: What I Like to Do (Documenta13, 2012), Feng Mengbo: Journey to the West (2010), Hu Jieming: One Hundred Years in One Minute (2010), and Yang Fudong: Dawn Mist, Separation Faith (2009) among others. A collection of his art reviews was published under the title Text in 2013. He won Curator of the Year from Art Power 100 (2014), Curator of the Year from TANC Asia Prize (2015), and The Regional Contemporary Art Project, INNOVATION Prize, Russia from the 3rd Ural Industrial Biennale of Contemporary Art (2016).