Li Zhenhua speaks to Anna Vittoria Magagna about his current collaboration with CryptoZR and the new age of Web3 curation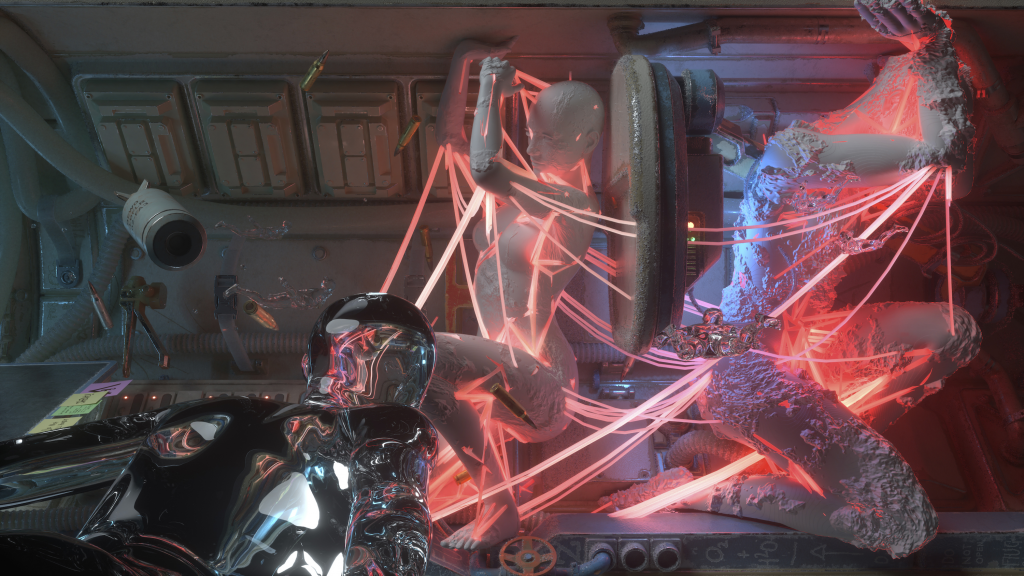 Digital artworks, web-based performance, and metaverse architecture are all central to a new solo exhibition by Liu Jiaying, also known as CryptoZR, currently on view at Spazio Thetis in Venice. Curated by Li Zhenhua and coinciding with the 59th edition of the Venice Biennale, "CryptoZR: Cookie Cookie 2.0" offers an elaborate immersion into the artist's creative universe following its first edition in Beijing. 
While the artist considers the human connectivity and bodily metamorphoseis instantiated by the blockchain, the show's curator is a true OG of new media art. RCS sought to find out how he is adapting his approach to the world of Web3 and what made this the right collaboration to start the journey.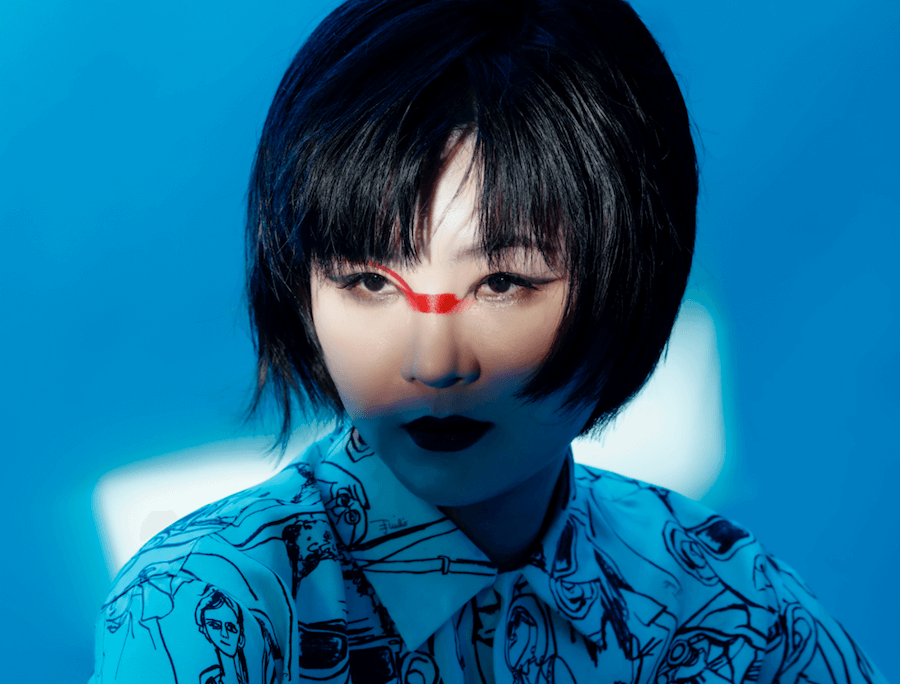 Anna Vittoria Magagna: How did you and Liu Jiaying meet and how do your artistic affinities carry into this new exhibition at the Venice Biennale?‍
Li Zhenhua: I became aware of Liu Jiaying by the end of 2020 through social media, having known her professor Wu Jian'an for years. She was one of the art students at the Central Academy of Fine Arts, Beijing (CAFA) graduation show, which is renowned nationwide for the strength of its young artists. 
Global new media art has preoccupied my research since 1999. But it was following a conference organized by Forbes and New Art Academy that I first met the artist Kevin Abosch, who has since become central to conversations about art on the blockchain. We recently held a discussion via NFTChina on the occasion of Liu Jiaying's first solo show in China. I was responsible for curating her work at Guardian Art Center, Beijing, and there will be further museum shows in the UK and China by the end of 2022. The Venice Biennale is always an artist's dream. I got involved a few weeks ago, when Lu Rongzhi asked Liu Jiaying to join the first METAVERSE project in Venice with me as the curator. On the one hand, Liu Jiaying's practice keeps developing as technology evolves, but, at the same time, her work is about challenging what makes us human. 
The initial exhibition in Beijing, titled: "CryptoZR: Cookie Cookie" was focused on the online protocols and cookies which entangle the human within flows of information and happiness — cookies always come with an espresso. Like the first edition, the Venice show exists as a mirrored exhibition both virtually and IRL as a computer-generated space with grids and fragments of Liu Jiaying's conceptual approach hacked together. YAP721 (2021) is the only sculpture included from the first exhibition, with everything else modified for this project. All of the fragments are salvaged in one space as a "cyberark" containing knowledge about blockchain technology, smart contracts, art, etc.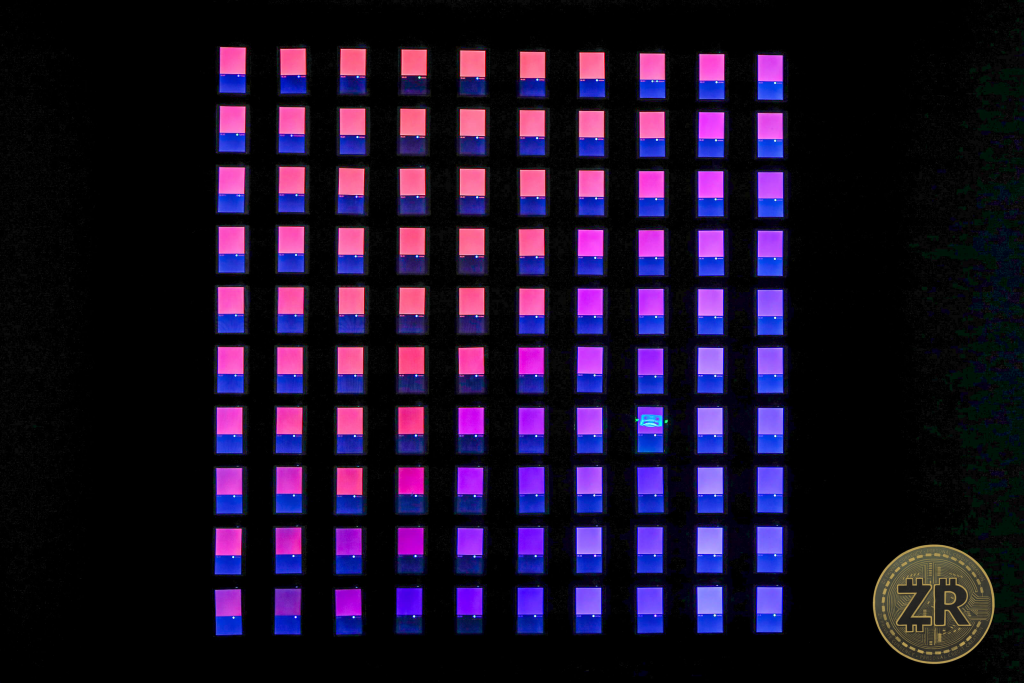 AVM: How did the concept for the original exhibition emerge and how does the latest iteration differ from the original?
‍LZ: I suggested that Liu Jiaying show everything, but to exhibit works from online activity and transaction data is difficult. We were already discussing NFTs prior to Beeple's record sale, about the right form of art to connect people with reality right now. For one thing, Liu Jiaying's works are all born digital and have been exhibited, exchanged, and traded already.
The question for her in this instance was whether she needed a physical medium to transform her digital artworks for exhibition in Venice. Because when human beings are connected through objects in both physical and digital form, it also expands the territory of the mind. In the end, this show is about people engaging each other in space, and about exchanging ideas with or without understanding.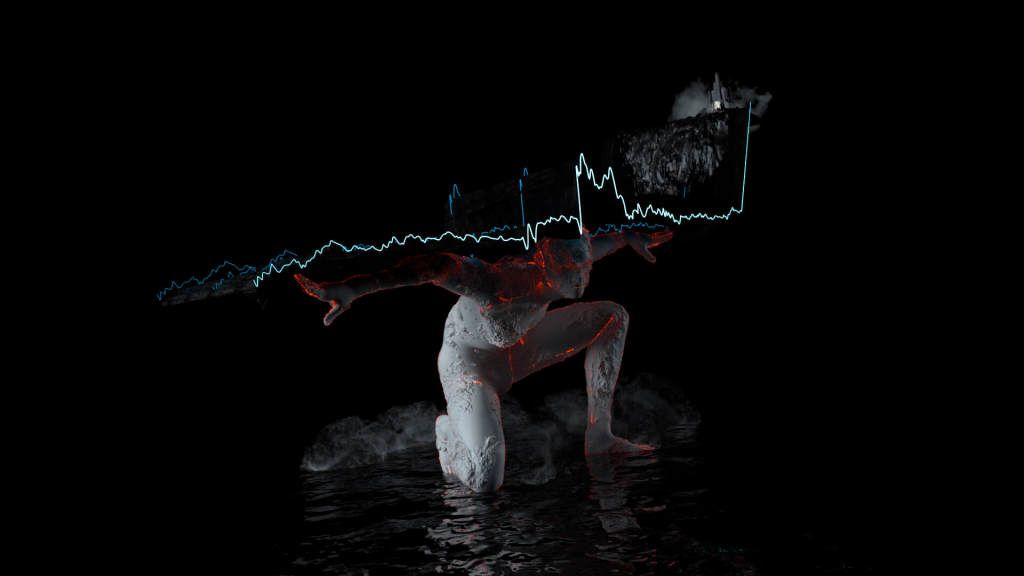 AVM: In what ways does the show challenge emerging Web3 frameworks for community?
‍LZH: Liu Jiaying's works have all been Web3-based from the beginning as she is a native Web3 being. Of course, with the mass proliferation of social media, those who primarily inhabit online space might query whether a work needs to be offline, while those who live in the physical world might ask the opposite. I am interested to understand how it all might merge into the metaverse.
Of course, there is also the problem of media archeology — of a situation when the natives of the internet have all passed away, when newborn babies start playing with android phones and toys. Liu Jiaying is critically focused on this material economy that follows the mutation of human nature, as well as its psychology, sociality, conceptual power, and experiential perception. Somehow, her work reflects on all of these aspects like a mirror, prism, or cloud.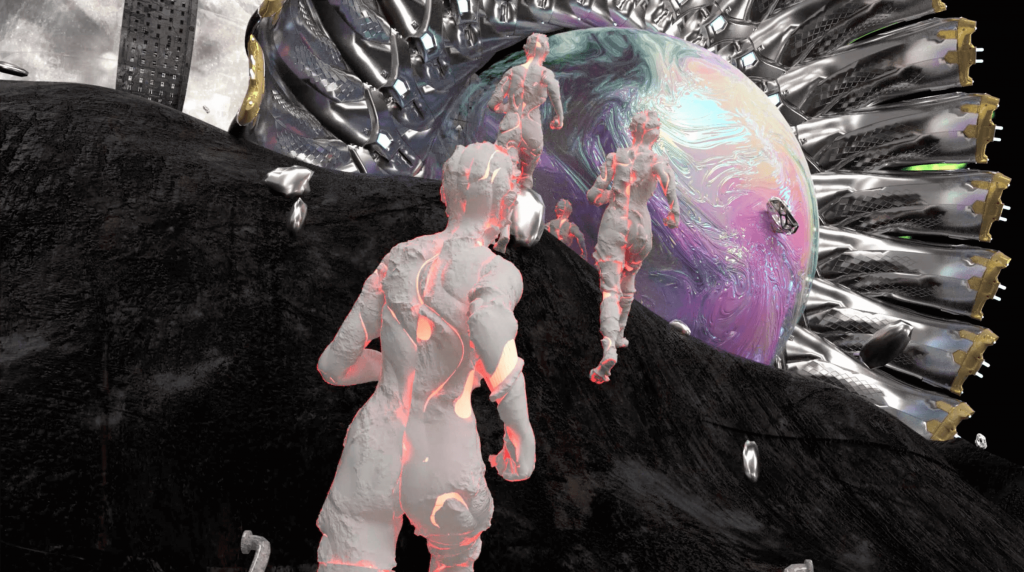 ‍AVM: How do you see the roles of artist and curator changing as the creator economy moves into the metaverse?
‍LZH: The metaverse is a novel projection that contains the same spirit as the internet — expanding and stretching the world of the future. It was Liu Jiaying who actually introduced me to the theory of radical markets, following her engagement with TopBidder — the online marketplace by which artists can launch NFT projects.
Her focus is on the core meaning of decentralization and its implications for new human structures. We have also discussed the issue of consensus at length, alongside art's new utility and tokenomics. Yes, the metaverse will lead us into a "new world," but we must be mindful of the increasing costs of living off food, our environment, and technology, especially during a worldwide pandemic, not to mention wartime.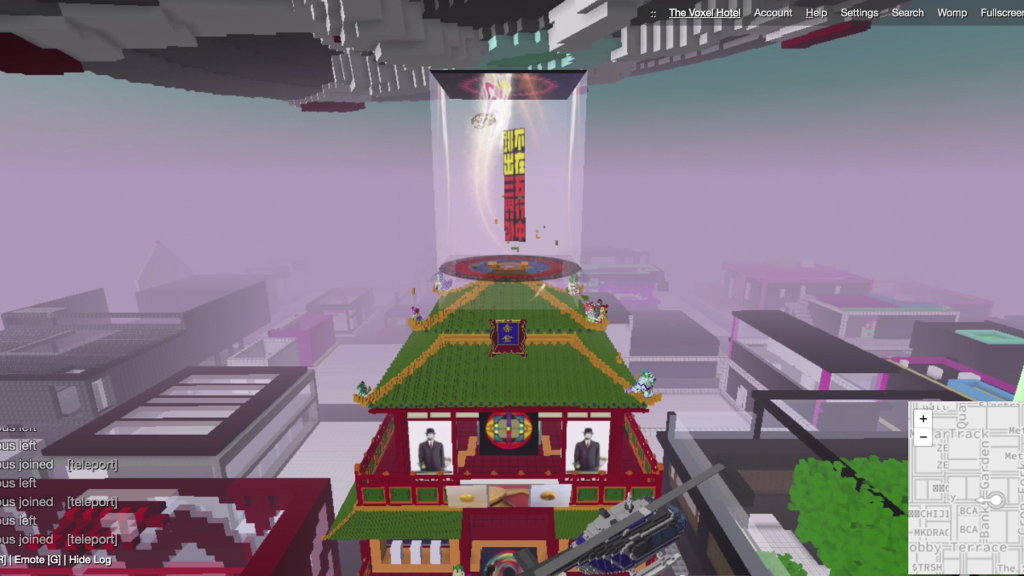 AVM: What is the relationship between online and offline space in this exhibition?
‍LZH: Each protocol has its own rules and limitations, which have implications for viewers of the exhibition — how they connect, relate, or penetrate the artist's projects. Liu Jiaying produced a mind map for the exhibition which shows how she reconciles her art conceptually with its technology.
When an online artwork sells as crypto art, it lives on in online space. However, the sale of an offline work freezes it in its totality. What is virtual and non-virtual — real and unreal — depends on people's ability to access their own experiences. But without the success of Web3 or the NFT movement, most people would still understand the world according to past functionalities. In Venice, Liu Jiaying's constellations float as if fragments in cyberspace, but in the mirror space of reality.
🎴🎴🎴
Li Zhenhua currently works between Zurich, Berlin, and Hong Kong. His practice involves curation, art creation, and project management. Since 2014, he has been film curator at Art Basel Hong Kong, having previously served on the international advisory board for the exhibition "Digital Revolution" at the Barbican Centre, and on the juries for the Korean Culture Center's Open Call 2021, and DAAD's film residency 2022. Li has edited several artists' publications, including Yan Lei: What I Like to Do (2012), Feng Mengbo: Journey to the West (2010), Hu Jieming: One Hundred Years in One Minute (2010), and Yang Fudong: Dawn Mist, Separation Faith (2009). In 2014, he won "Curator of the Year" as part of the Art Power 100, receiving further awards from TANC Asia Prize (2015), and from the 3rd Ural Industrial Biennale of Contemporary Art (2016). He has been nominated for the Sommerakademie im Zentrum Paul Klee and the Prix Pictet in Switzerland.‍
Liu Jiaying (CryptoZR) previously served as Chief Product Designer of Global SNS at Tencent. In 2016, she was accepted to the master's degree program at the Central Academy of Fine Arts, Berlin. The artist has since used blockchain technology to explore her own unique artistic language. In 2017, she founded the company ProChain Foundation, whose products include Prabox, TopBidder, and YFII. ‍
Anna Vittoria Magagna is a freelance curator and writer based in Milan. She contributes to Juliet Art Magazine and T Magazine, collaborating with a number of different galleries and collections including MASI, Lugano; MeetFactory, Prague; Viasaterna, Milan; and Galleria Alessandro Albanese, Milan. Most recently, she curated "Nüwa City" at Galleria Paola Verrengia. She is also course coordinator for "Crypta Art Manent" at the European School of Economics, Milan, focusing on digital art.
The exhibition, "Cookie Cookie 2.0," is on view at Spazio Thetis, Venice, from April 21 to November 23, 2022.
Article Source:May 6, 2022 https://www.rightclicksave.com/article/the-united-community-of-crypto-art