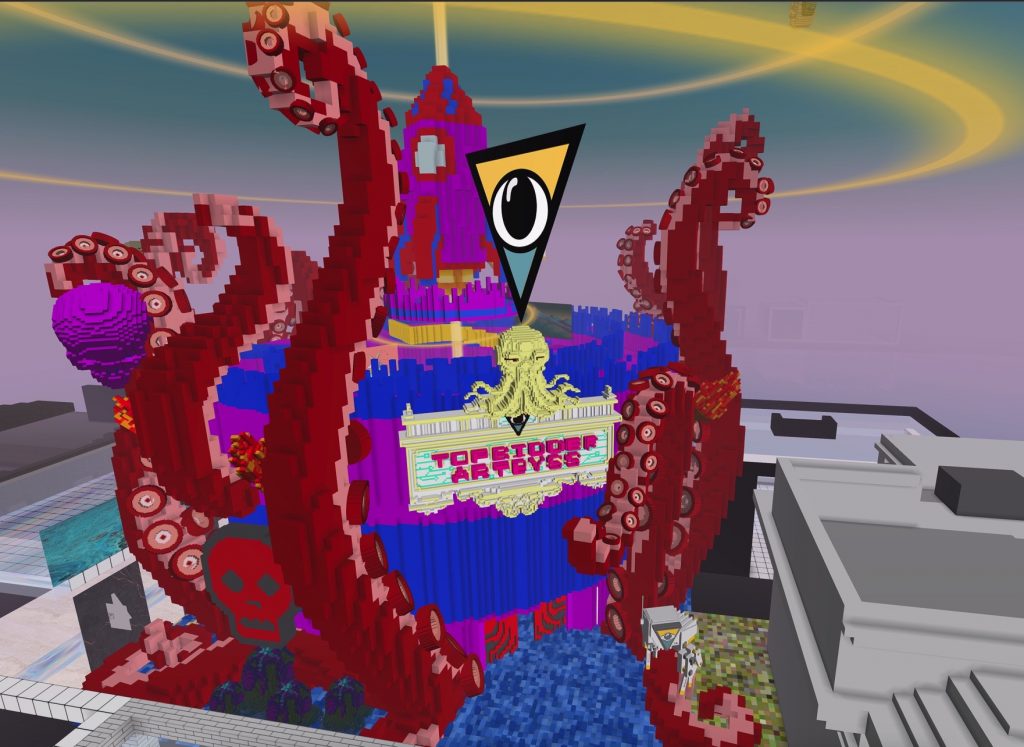 TopBidder Artbyss is a virtual art gallery based on the TopBidder encrypted art auction site.
TopBidder Artbyss是基于TopBidder网站的一个虚拟美术馆
Located on the waterfront of Cryptovoxels virtual world, the exterior of the gallery is built in reference to Cthulhu, and the interior of the gallery resembles the layout of the Guggenheim, with three levels of circular staircases with fire arrows in the middle.
它位于CV虚拟世界的海边,美术馆外立面采用克苏鲁风格,展厅内部是类似古根海姆的布局结构,内设三层以飞行火箭为圆心的环形楼梯。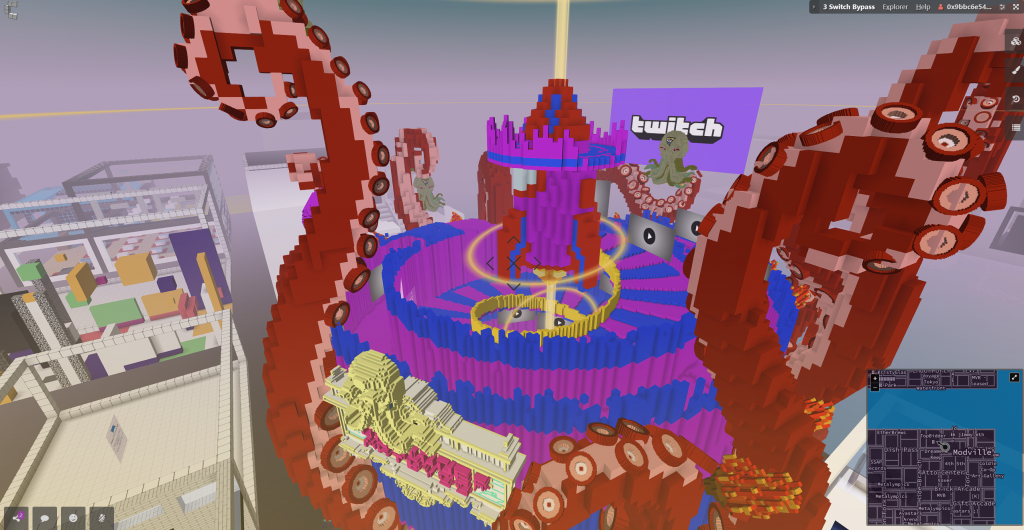 The plaque design of TopBidder Artbyss is carried by a classical architecture that focuses on proportions, colliding with highly saturated neon light, highly reflective metal, circuit networks, and futuristic textured material and symbolic elements like Cthulhu and the Eye of God, creating a Cyber Academy style with a sense of contrast.
TopBidder Artbyss的牌匾设计以注重比例的古典派建筑为承载,碰撞高饱和霓虹灯光、高反光金属、电路网络以及克苏鲁和上帝之眼这种未来之感的材质和符号元素,形成具有反差感的赛博学院风格。
The pixelated cubes of the ocean floor and the circular architecture create a deep and mysterious sense of space, and by using strong colour contrast it presents a greater visual impact.
像素方块组成的海洋地面和圆环形的建筑结构营造出深邃又神秘的空间感,搭配强烈的色彩对比呈现出一股巨大的视觉冲击。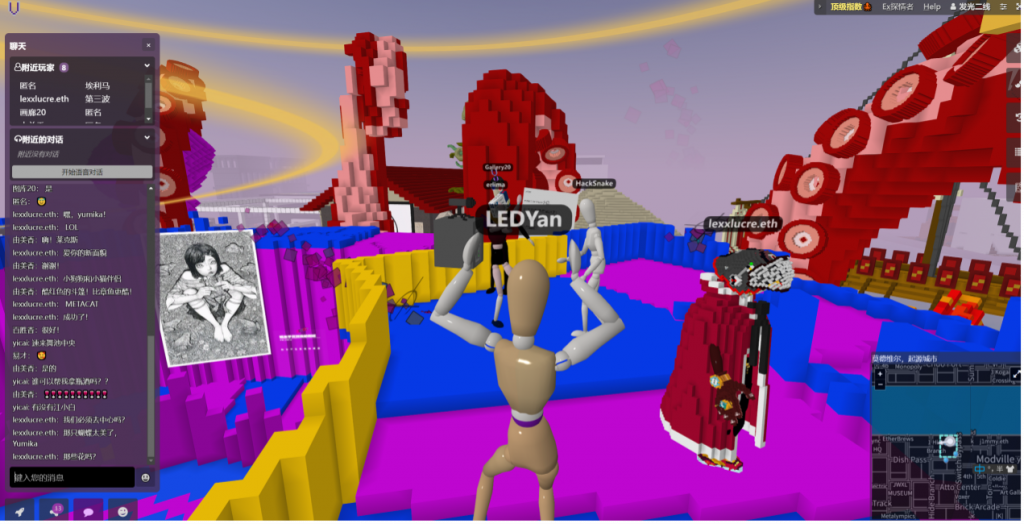 At the center of the gallery is a hovering observation deck that leads to the top deck. This device rises automatically in a halo tunnel, moving slowly from the first floor to the top of the gallery, and is an important tool for navigating the entirety of the gallery, acting as a gondola. This is the equivalent of a gondola. It is an innovative way to see the museum, and is a novelty in Cryptovoxels.
美术馆的中心有通往顶层平台的悬浮观景台,这个装置会顺着光环隧道自动上升,从一层海面缓慢移动到美术馆的顶层上空,是浏览到美术馆整个全貌的重要工具,相当于观光缆车的作用。像这样的观光方式在Voxels世界中是富有新意的存在。
The entire top floor is surrounded by red octopus tentacles, where not only is the largest screen in the museum connected to the twitch live stream, but also the mysterious passage into the hidden space of the museum. When you look up, you can see the Cthulhu ghosts floating everywhere above the museum and the golden light that rises up to the sky, the whole sky is covered by a huge golden light to create a strong sense of vertigo.
随着悬浮观景台的上升,来到美术馆三楼的顶层平台,整个顶楼被红色的章鱼触须所包围,这里不仅有整个美术馆最大的一块连通Twitch直播的屏幕,也有进入美术馆隐藏空间的神秘通道。抬头一望就能看见美术馆上空随处漂浮的克苏鲁幽灵及直冲云霄的金色光线,整个天空被巨大的金色光线笼罩,制造出强烈的眩晕感。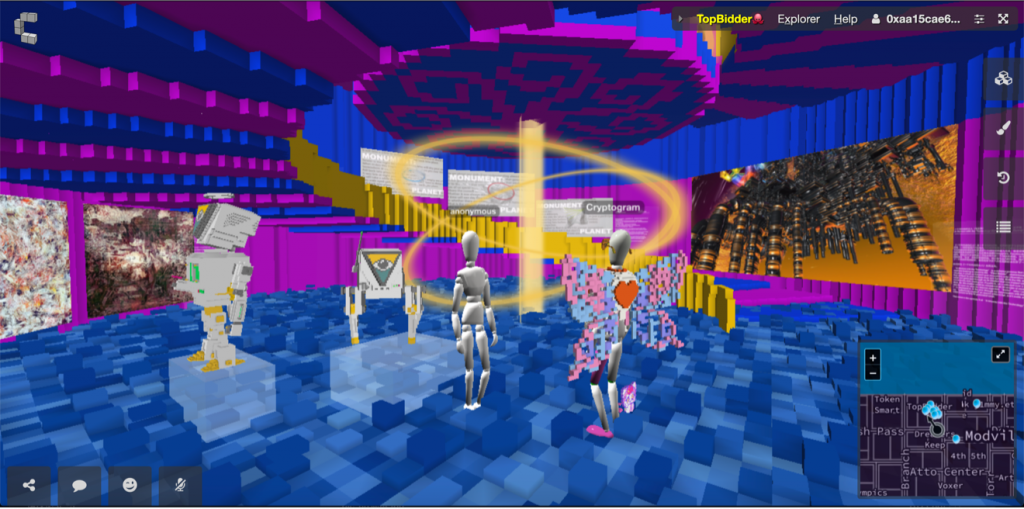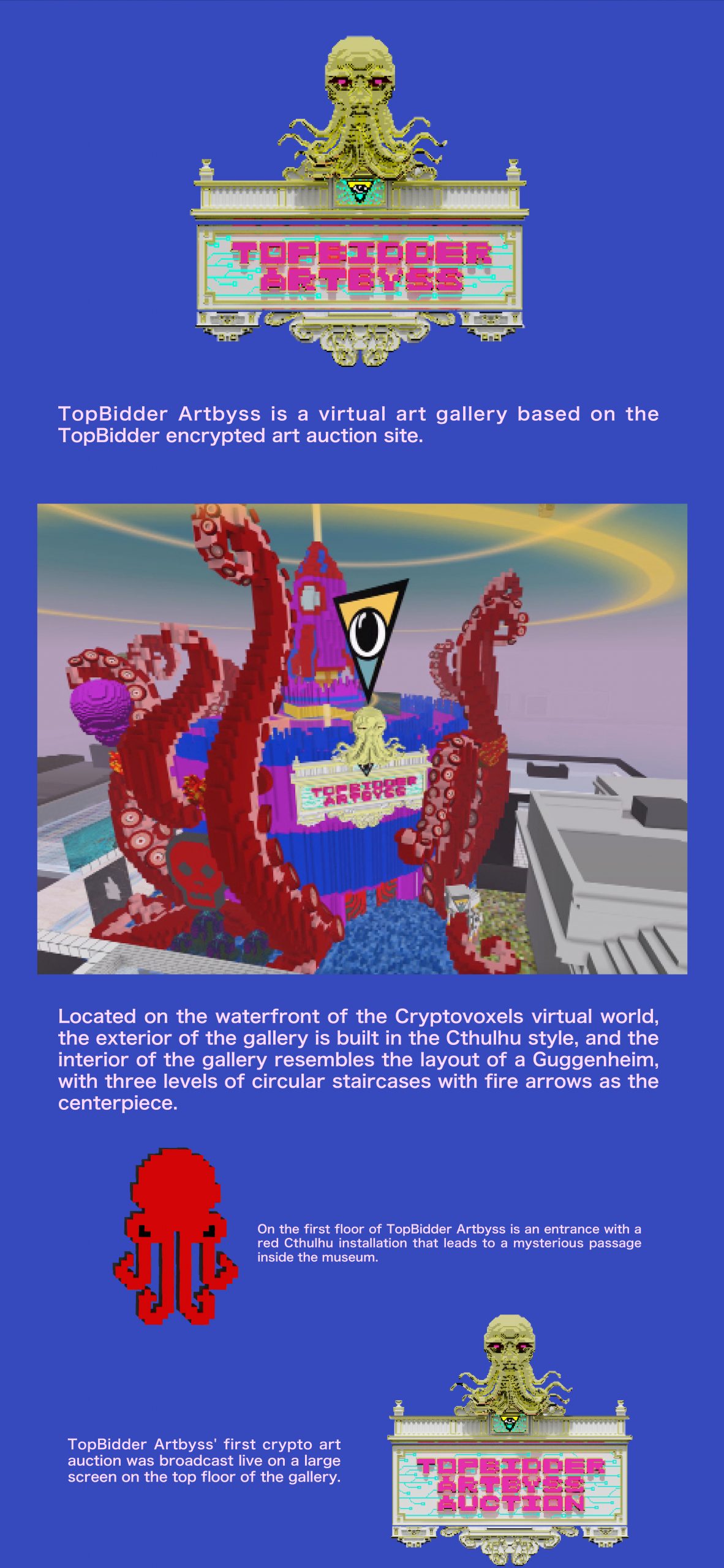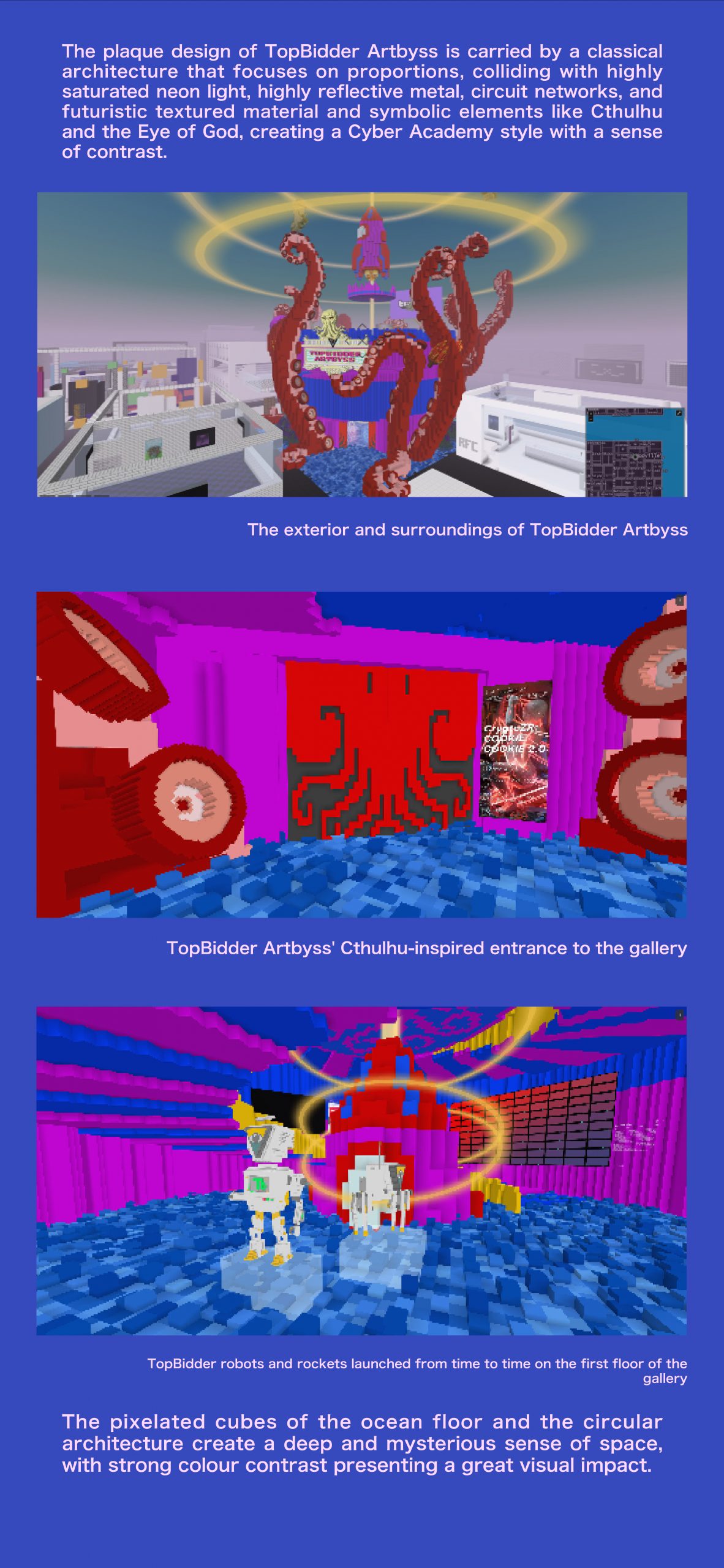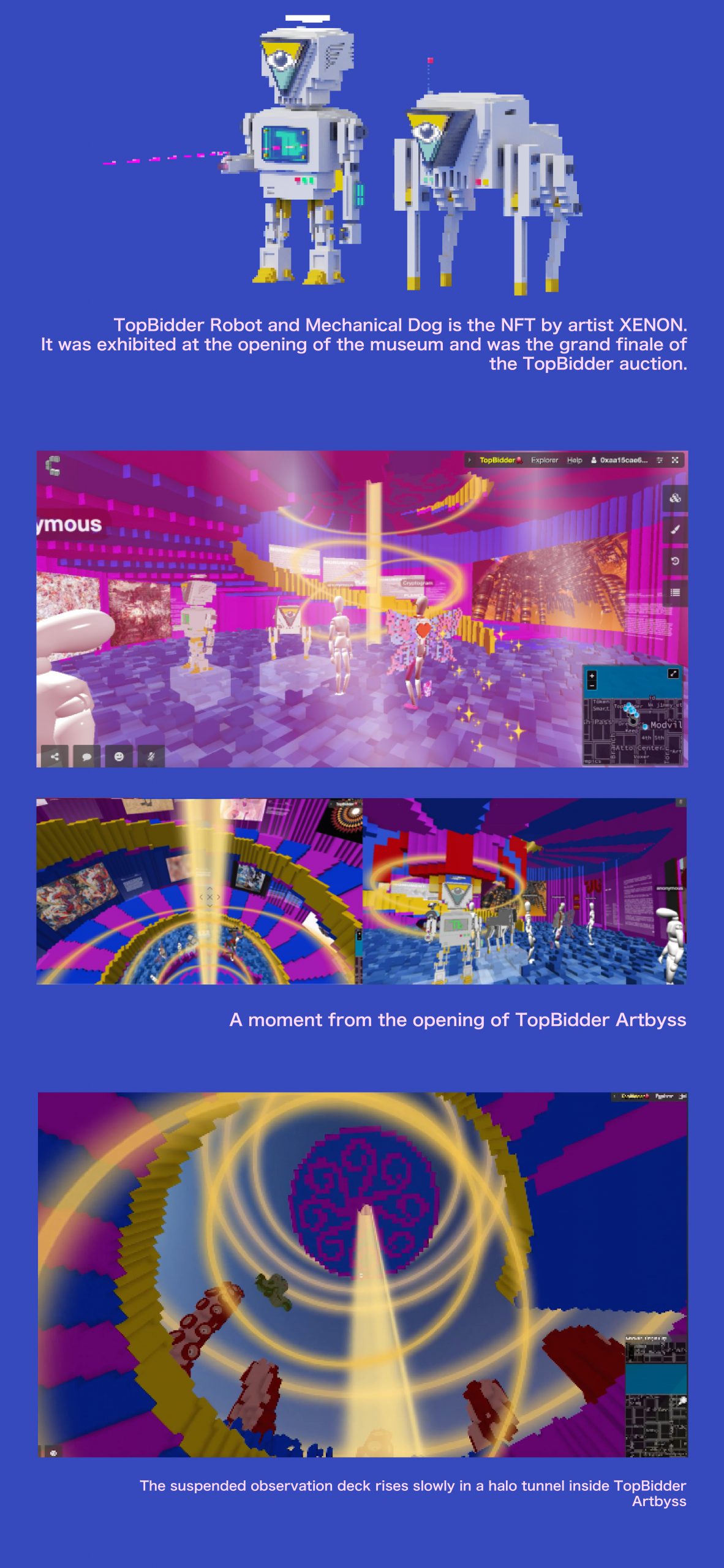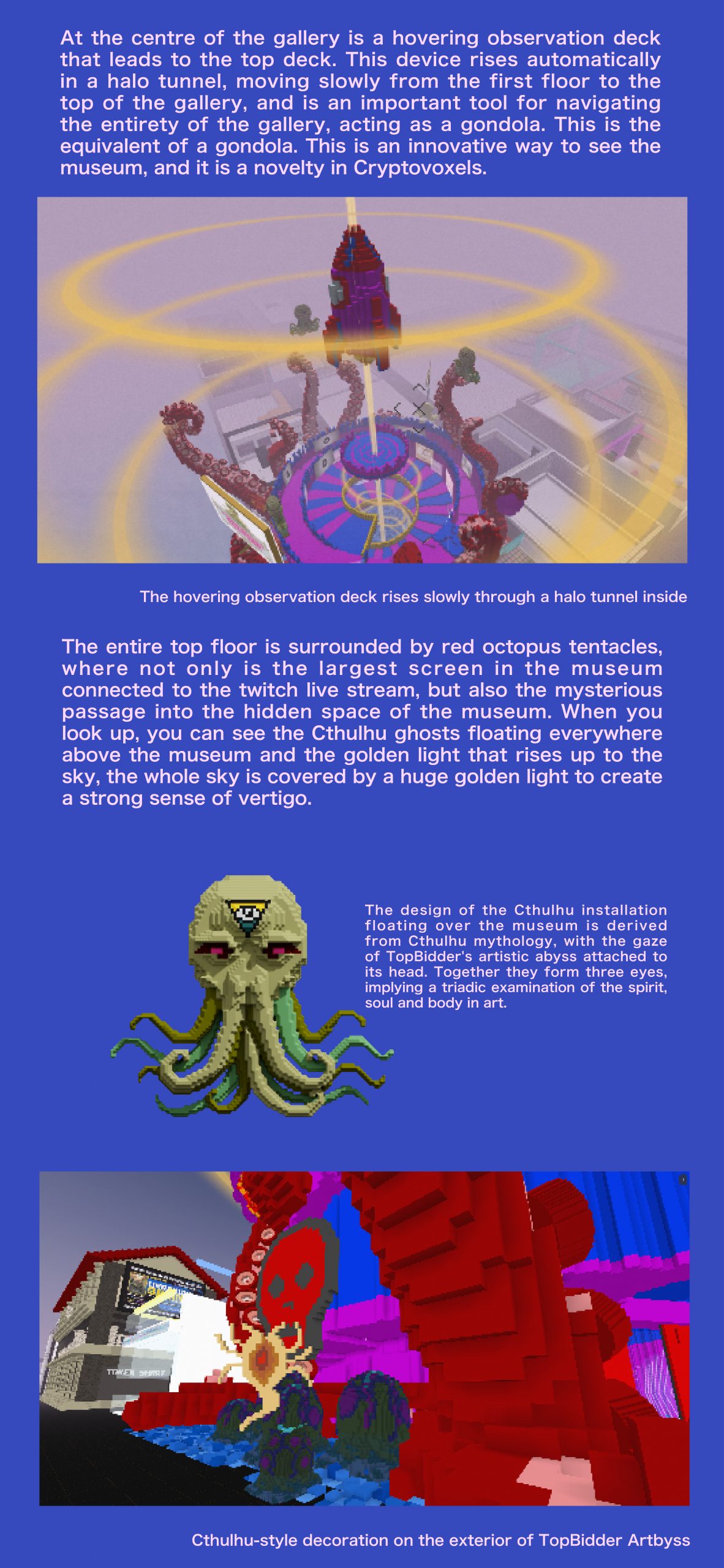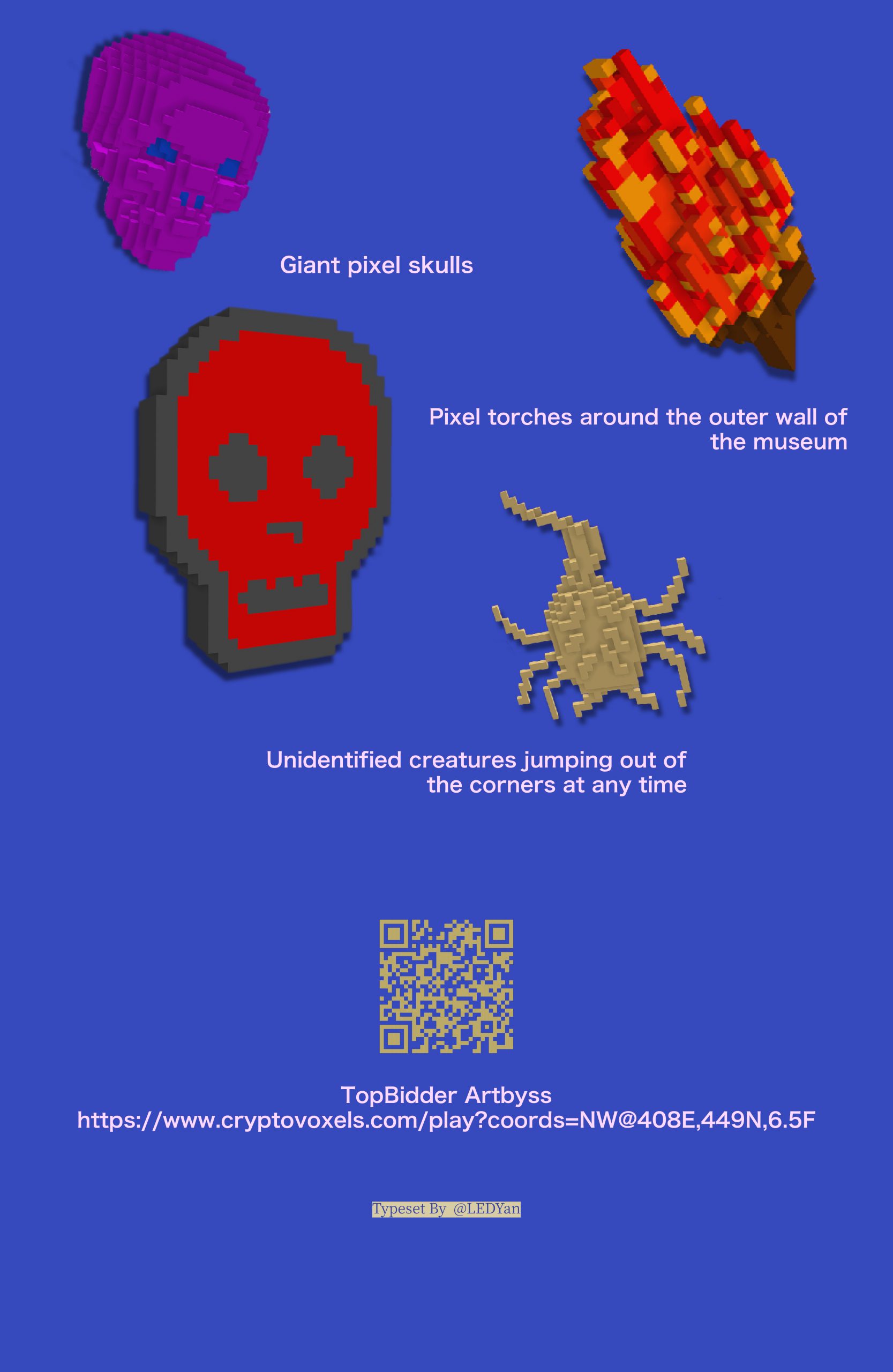 TopBidder Artbyss:
https://www.cryptovoxels.com/play?coords=NW@408E,449N,6.5F